I can't remember when I first encountered Vietnamese coffee. Alas I've never been to Vietnam (a place I'd love to go!), so my guess is it must have been a restaurant somewhere at some point. But then after that for a few years there was a cafe called Hanoi Coffee Company in central Bristol. I used to frequent regularly just to get a hit of this lovely drink.
This post is part of my coffee series of posts, a full list of which is available here.
Vietnamese coffee is traditionally served with condensed milk. The condensed milk is placed in the bottom of a glass cup, and then a metal drip filter called a phin is placed on top of the cup. Course ground coffee, often with chicory in it is put in the top and hot water poured in. The water drips through the coffee and onto the condensed milk at the bottom, giving a lovely two-tone drink. It always seems slightly decedant to me, maybe because it reminds me of cocktails in which the different coloured spirits are carefully poured on top of each other.
You can then stir the coffee in with the condensed milk, which provides both a sweet and milky aspect to the drink. The coffee is short and strong, a bit like an espresso. I generally drink my coffee black when I drink a filter or Americano coffee, but this I really like.
I used to hop on my motorbike in the evening and ride down to the centre of town, get a Vietnamese coffee and sit in Hanoi Coffee Company and watch the world pass out the window. A sort of desert, if you like. Alas they have closed down since, so I need to hunt around for somewhere else... or maybe buy a phin and make it myself. They are only a few pounds to buy online.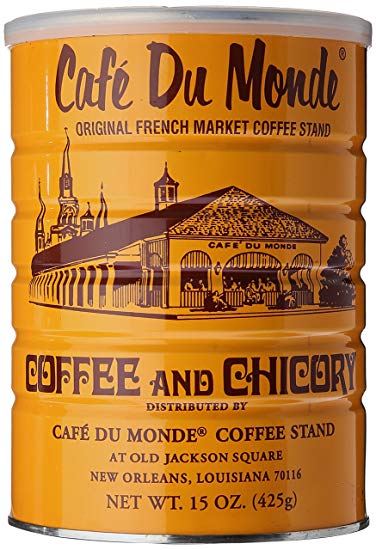 So why chicory? Apparently this isn't actually a traditional Vietnamese thing, but came about by a cafe in New Orleans called "Café du Monde". A lot of Vietnamese immigrants to the USA ended up in New Orleans. I guess there is a common French connection there. They found that this particular coffee matched the flavour they were used to back home, and so it kinda stuck. Now the yellow-ish / orange tin of Café du Monde coffee has become pretty ubiquitous with Vietnamese coffee worldwide.
But, no, really... why chicory? Well you have to be a subscriber to find out below ;)